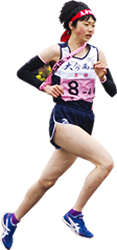 The day before the race, an official opening ceremony is held. All the athletes take a loud vocal pledge that reverberates throughout the stadium. Thus, the curtain is raised and the tournament begins. At the start signal, the athletes all take off running. The race gradually unfolds into a white-hot competition between the athletes, who bear the expectations of everyone on their shoulders. After the endurance-draining race, the athletes all collapse to the ground in exhaustion.
The voices of the spectators along the road cheer them on, and each athlete runs their hardest while aiming for the goal.
Although each athlete has a different facial expression when crossing the goal line, all of their faces shine with light.
After the race, the winning team receives a victory flag from the mayor of Akune and lots of admiration and applause from everyone at the event.