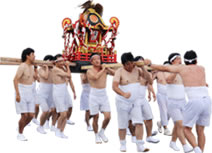 The 'Akune Midokoi Summer Festival' begins with the arrival of a portable shrine and an array of Japanese traditional performing arts. The festivities carry on well into the night, with a parade and a 'Hanya' (Midnight) Dance. All of the events bring to mind the joys of summer! In the morning, offerings are made at Yasaka Shrine in the form of dances. They consist of a stick dance and a traditional Japanese dance known as 'Yamadaraku' (a war dance originally designed to boost troop morale). This heroic dance always draws a big crowd. The dancers wear matching kimono with white cords known as 'tasuki' to hold back their sleeves. Watching the dancers manipulate their sticks, all while striking bells, is a sight worth seeing in and of itself! The night starts with a musical parade making its way down main street. This parade is followed by a kindergarten music recital and a brass band performance, both of which serve to liven up the atmosphere. It is at this point that the Hanya Dance begins. 60 groups, totalling 2500 people, perform a live folk dance called the 'Hanya-bushu'. The train of dancers is comprised of a diverse range of people; everyone from dancing school students with their crisp, skilled movements, to cute little children, to elaborately costumed performers - all of whom bathe in cheers and applause - make for a highlight extraordinaire. At this fun festival, watching the individual groups makes you want to form a circle and join in the dancing fun! This folk dance event has been included since 2017,
as has the Kagoshima 'Oharabushi' folk dance.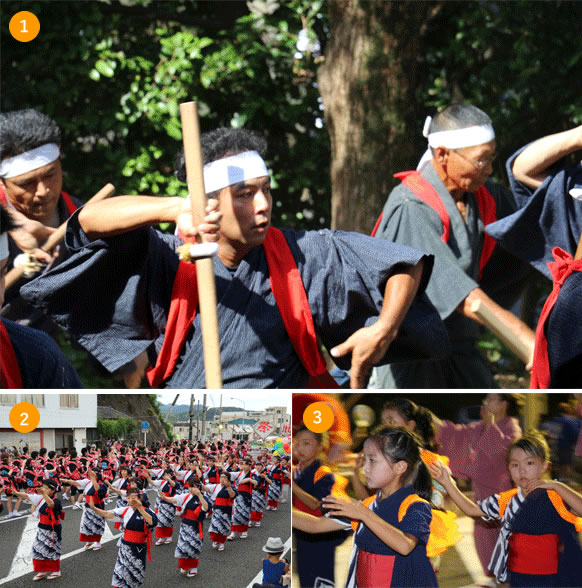 ①An Array of Elaborate Stick Dances in Southern Kyūshū.These stick dances are a way of offering up Buddhist prayers and warding off evil spirits. ②The dancers perform a folk dance called the 'Hanya-bushu' while audience members encourage them with cries of 'Yoisā, Yoisā!' ③The touchingly beautiful sight of young girls dancing will stir your heart.